Level Switch LA32N2-40
with 1/2"NPT thread for conduit or connection head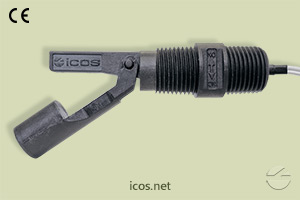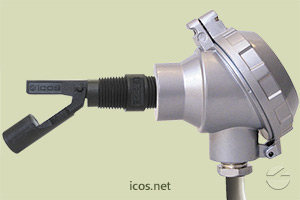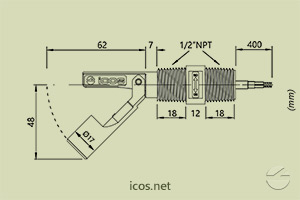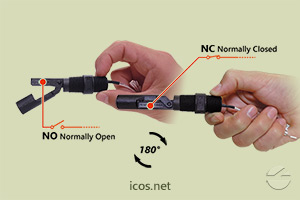 1 — 9 pcs.
21.60 €by piece
10 — 99 pcs.
17.20 €by piece
+ 100 pcs.
14.40 €by piece
VAT not included
Overview
Description
Movement of the magnetic float opens / closes a hermetically sealed contact.
With Eicos level switch LA32N2-40, you can control the level of liquid at the point (height) that it is installed in the tank. It is ideal for temperature up to 125°C.
The sensor indicates by means of a ON/OFF signal when the level of liquid is reached. Mounting by the external side of the tank in 1/2"NPT thread. For each liquid level to detect, is needed to install a level switch.
Output connection by 40cm wire and installation with conduit or connection head.
Technical Specifications
Material: PPA - Polyphthalamide
Maximum operating pressure: 2bar
Operating temperature range: -10°C to 125°C
Color: Black
Liquid minimum density (SG): 0.70
Weight: 60g
Output: On/Off
Switch: NO/NC - SPST
Output connection: Wire 2 x 0.5mm² x 40cm
Enclosure rating: IP66
Mounting: External side in 1/2"NPT thread
Sealing: Sealant tape
Maximum wall thickness: 18mm
Minimum radius in cylindric tank: -
Warranty: 2 years
Switching Voltages
| | | | |
| --- | --- | --- | --- |
| Operating Voltage | Max. Switching Power | Max. Switching Current | Peak Current |
| 110Vac | 20VA | 0.2A | 0.5A @20ms |
| 220Vac | 20VA | 0.1A | 0.5A @20ms |
| 5Vdc | 2.5W | 0.5A | 1A @20ms |
| 12Vdc | 5W | 0.5A | 1A @20ms |
| 24Vdc | 10W | 0.5A | 1A @20ms |
OPERATING VOLTAGE: 110Vac

Max. Switching Power: 20VA
Max. Switching Current: 0.2A
Peak Current: 0.5A @20ms

OPERATING VOLTAGE: 220Vac

Max. Switching Power: 20VA
Max. Switching Current: 0.1A
Peak Current: 0.5A @20ms

OPERATING VOLTAGE: 5Vdc

Max. Switching Power: 2.5W
Max. Switching Current: 0.5A
Peak Current: 1A @20ms

OPERATING VOLTAGE: 12Vdc

Max. Switching Power: 5W
Max. Switching Current: 0.5A
Peak Current: 1A @20ms

OPERATING VOLTAGE: 24Vdc

Max. Switching Power: 10W
Max. Switching Current: 0.5A
Peak Current: 1A @20ms
24Vac: NOT recomended
Datasheets
Datasheet and Installation Guide