Level Switch LC26M-40
for acids, chemical and vertical mounting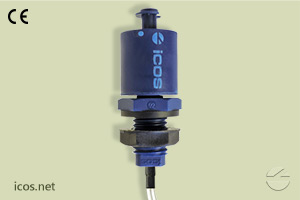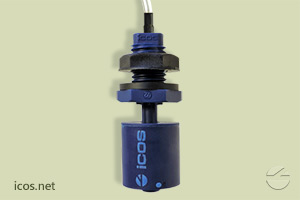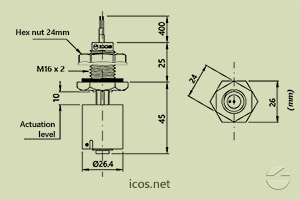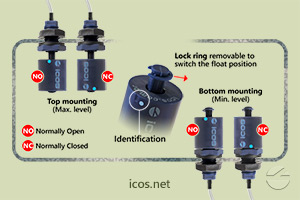 1 — 9 pcs.
11.90 €by piece
10 — 99 pcs.
9.50 €by piece
+ 100 pcs.
7.90 €by piece
VAT not included
Overview
Description
Movement of the magnetic float opens / closes a hermetically sealed contact.
With 45mm rod length, the Eicos level switch LC26M-40 detects the level of water or other liquid at the top (maximum level) or bottom (minimum level) of the tank. It is ideal for acids and chemical products.
The sensor indicates by means of a ON/OFF signal when the level of liquid is reached. Mounting by the internal side of the tank in Ø16mm hole.
Output connection by 40cm wire.
Not suitable for fuel.
Technical Specifications
Material: PP - Polypropylene*

PA hex nut

Maximum operating pressure: 2bar
Operating temperature range: -10°C to 90°C
Color: Dark blue
Liquid minimum density (SG): 0.70
Weight: 30g
Output: On/Off
Switch: NO/NC - SPST
Output connection: Wire 2 x 0.5mm² x 40cm
Enclosure rating: IP66
Mounting: Internal vertical in Ø16mm hole
Sealing: NBR (nitrilic rubber) gasket
Maximum wall thickness: 9mm
Warranty: 2 years
* Although the Polypropylene supports various chemicals, depending on the product requires preliminary tests to confirm compatibility.
Switching Voltages
| | | | |
| --- | --- | --- | --- |
| Operating Voltage | Max. Switching Power | Max. Switching Current | Peak Current |
| 110Vac | 20VA | 0.2A | 0.5A @20ms |
| 220Vac | 20VA | 0.1A | 0.5A @20ms |
| 5Vdc | 2.5W | 0.5A | 1A @20ms |
| 12Vdc | 5W | 0.5A | 1A @20ms |
| 24Vdc | 10W | 0.5A | 1A @20ms |
OPERATING VOLTAGE: 110Vac

Max. Switching Power: 20VA
Max. Switching Current: 0.2A
Peak Current: 0.5A @20ms

OPERATING VOLTAGE: 220Vac

Max. Switching Power: 20VA
Max. Switching Current: 0.1A
Peak Current: 0.5A @20ms

OPERATING VOLTAGE: 5Vdc

Max. Switching Power: 2.5W
Max. Switching Current: 0.5A
Peak Current: 1A @20ms

OPERATING VOLTAGE: 12Vdc

Max. Switching Power: 5W
Max. Switching Current: 0.5A
Peak Current: 1A @20ms

OPERATING VOLTAGE: 24Vdc

Max. Switching Power: 10W
Max. Switching Current: 0.5A
Peak Current: 1A @20ms
24Vac: NOT recomended
Datasheets
Datasheet and Installation Guide