Level Switch LA12N-40
for level control of water, fuels and lubricants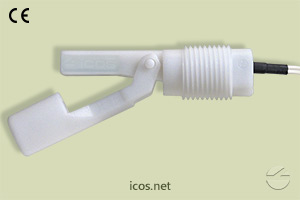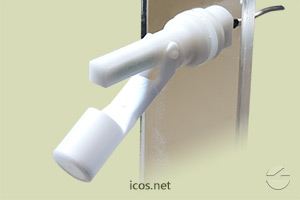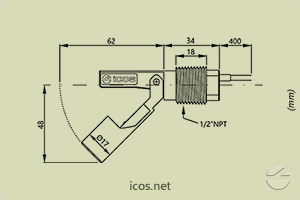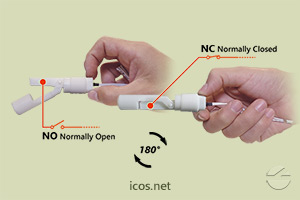 1 — 9 pcs.
11.90 €by piece
10 — 99 pcs.
9.50 €by piece
+ 100 pcs.
7.90 €by piece
VAT not included
Overview
Description
Movement of the magnetic float opens / closes a hermetically sealed contact.
With Eicos level switch LA12N-40, you can control the level of liquid at the point (height) that it is installed in the tank. It is ideal for level control of water, oil, fuel and lubricants.
The sensor indicates by means of a ON/OFF signal when the level of liquid is reached. Mounting by the external side of the tank in 1/2"NPT thread. For each liquid level to detect, is needed to install a level switch.
Output connection by 40cm wire.
Technical Specifications
Material: POM - Polyacetal (FDA approved)
Maximum operating pressure: 2bar
Operating temperature range: -10°C to 100°C
Color: White
Liquid minimum density (SG): 0.76
Weight: 30g
Output: On/Off
Switch: NO/NC - SPST
Output connection: Wire 2 x 0.5mm² x 40cm
Enclosure rating: IP66
Mounting: External side in 1/2"NPT thread
Sealing: Sealant tape
Maximum wall thickness: 18mm
Minimum radius in cylindric tank: -
Warranty: 2 years
Switching Voltages
| | | | |
| --- | --- | --- | --- |
| Operating Voltage | Max. Switching Power | Max. Switching Current | Peak Current |
| 110Vac | 20VA | 0.2A | 0.5A @20ms |
| 220Vac | 20VA | 0.1A | 0.5A @20ms |
| 5Vdc | 2.5W | 0.5A | 1A @20ms |
| 12Vdc | 5W | 0.5A | 1A @20ms |
| 24Vdc | 10W | 0.5A | 1A @20ms |
OPERATING VOLTAGE: 110Vac

Max. Switching Power: 20VA
Max. Switching Current: 0.2A
Peak Current: 0.5A @20ms

OPERATING VOLTAGE: 220Vac

Max. Switching Power: 20VA
Max. Switching Current: 0.1A
Peak Current: 0.5A @20ms

OPERATING VOLTAGE: 5Vdc

Max. Switching Power: 2.5W
Max. Switching Current: 0.5A
Peak Current: 1A @20ms

OPERATING VOLTAGE: 12Vdc

Max. Switching Power: 5W
Max. Switching Current: 0.5A
Peak Current: 1A @20ms

OPERATING VOLTAGE: 24Vdc

Max. Switching Power: 10W
Max. Switching Current: 0.5A
Peak Current: 1A @20ms
24Vac: NOT recomended
Datasheets
Datasheet and Installation Guide